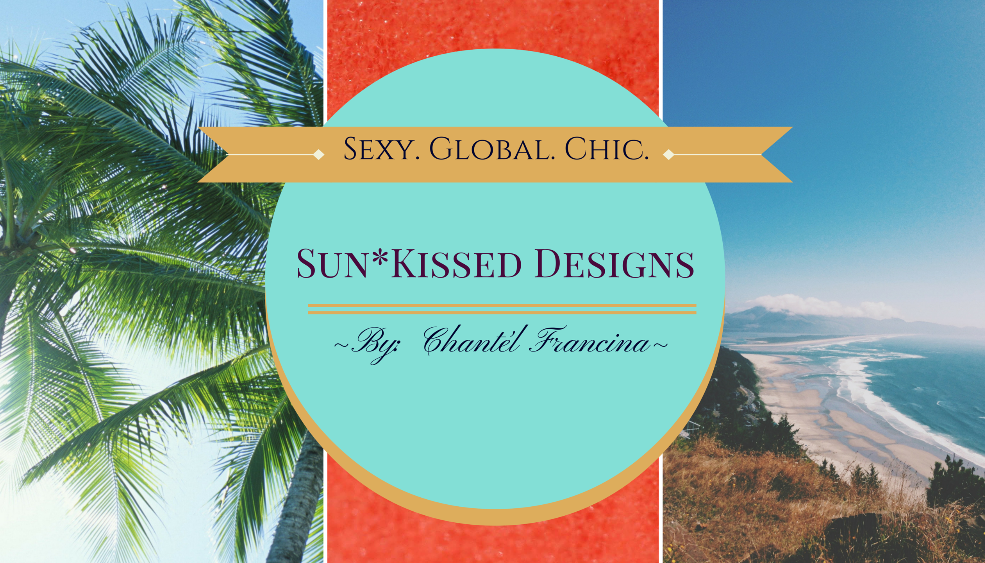 THE SUN*KISSED DESIGNS




SEXY. GLOBAL. CHIC.
Life is about exploration! Discovering people and cultures in the unknown. Finding and sharing yourself along your journey...your way. We have been inspired by all the beauty that coastal regions across the globe have shared. Each and every locale expresses "coastal" in their own way...and it is beautiful! Experience The Sun*Kissed Designs! It's Always Summer Somewhere! Stylish pieces that take you from day to evening and anywhere in between. Pieces that are native inspired, coastal-kissed, hint at vintage and are simply luxurious! Whether you are jet-setting or staying put, these designs align into every moment. Balance. Gratitude. Enthusiasm! Sexy. Global. Chic! Create your moments and then fully live them! Our mission is simply to create beautiful clothing and accessories for you and lovely products for your home, that cultivate an experience of effortless style! We design and hand make all of our products, giving you a piece of our creativity and ensuring quality all along the way! Live the Sun*Kissed Life! click the images below to explore! #EndlessSummer!
Experience Gather by The Sun*Kissed Designs!
IT IS ABOUT COMING TOGETHER TO CREATE NEW MEMORIES!
It's about coming together and making new memories with amazing flavors! Introducing, Gather by The Sun*Kissed Designs By ~Chantél Francina~, our new line of delicious, handcrafted, baked goods! We've blended flavors so delectable that they burst on your palate! We've designed a culinary line of exquisite taste! We've created cuisine that is beyond every limit! Welcome to our newest line of products and services that flavorfully match our unique and luxurious style! From our handmade baked goods to our inviting cookbooks and cookware! You're cordially invited to Gather by The Sun*Kissed Designs By ~Chantél Francina~! Visit our new Cuisine, Gear, Books, Essentials, Art Page to discover our new line of finecrafted artisan foods and to order!
All Treats And No Tricks!
HARVEST! AUTUMN! AND OF COURSE, SOMETHING SWEET!! ENJOY THE AUTUMN CANDY EARRING COLLECTION JUST IN TIME FOR TRICK OR TREAT SEASON!!! ONE OF A KIND, VINTAGE, HANDPAINTED EARRINGS THAT ARE SURE TO SWEETEN UP EVERY LOOK! BUT ACT FAST AS THERE IS ONLY ONE OF EACH PAIR!
Last Of The Summer Wine!
ENJOY THE AMERICANA STYLE OF THE LIBERTY COLLECTION! INSPIRED BY THE STYLISH REGIONS OF THE U.S.A., THE LIBERTY COLLECTION SAUNTERS THROUGH THE EAST COAST, STRUTS THROUGH THE MIDLANDS, JOURNEYS THROUGH THE SOUTH, AND ESCAPES ALONG THE WEST COAST! THE SEASONAL DRIFT IS REAL...ANC CHIC!!!
SHOP THE NEWEST COLLECTIONS FROM THE SUN*KISSED DESIGNS!
ENJOY BEAUTIFUL EXCLUSIVES AND AMAZING NEWNESS!!
OPERATION: BARBIE CHIC!!
SHOP THE SAND CASTLE COLLECTION OUR NEWEST LINE AND KEEP IT CLASSY AND...BARBIE INSPIRED CHIC! 
AND KEEP SHOPPING OUR PERMANENT COLLECTIONS FOR AMAZING AND STYLISH FINDS FOR YOU, YOUR HOME, YOUR FUR BABIES, AND YOUR FAMILY AND FRIENDS!!
Fresh and Vibrant Skin is IN!!
Fall In Love With Our Self Care Lines!
From ~Chantél Francina~SKINCARE to our Eau de Toilettes, Body Scrubs,
and Cosmetics, treat yourself to autumn bliss!